Surface Solutions Group is Expanding!
SSG is moving in 2014 to a new location called our "Campus."
The new facility is being purposely built for the application, research and development of coatings for the medical device industry. This represents a 5x expansion in floor space, from 6,500 to 34,000 square feet. The new facility will have 11 separate HVAC zones. Each new production line will be individually qualified, with the complete facility in place by November. SSG will maintain the present facility until all new lines are validated per our customers' requirements.
The purchase of the new facility allows substantial advantages over the current space, expanding SSG's production capabilities: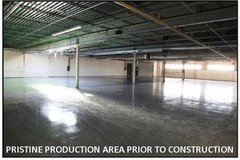 10 individual production areas
Six automated robotic coating lines
Medical coating production and testing/analytics laboratory
Dedicated customer-specific production areas available
Individual HVAC cooling, heating and humidity control for all areas
Isolated HEPA-filtered, humidity-controlled hydrophilic coating rooms
HEPA-filtered inspection and packaging areas
Complete cardboard packaging quarantine area
New, energy-efficient lighting, roofing, windows and insulation
Separate HEPA filtered (class 10,000 and class 100,000) production areas include: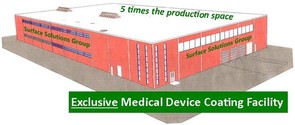 Multiple air showers for entry into all production areas
Incoming inspection (with cardboard isolation)
Final quality inspection and packaging
Separate hydrophilic application area
Prototype production area
Small part production area
The production areas have been constructed with tongue-and-groove metal panels with sealed windows. No drywall or paper products have been used in the construction of the coating or laboratory areas. Complete LED lighting will be installed. Our in-house tooling and machinery building will be significantly expanded.
Parking for 12 visitors and 50+ staff, plus 5 truck docks and 3 drive in doors, will provide first-class transportation and logistic support. O'Hare International airport is a short 12 minute cab. The office will have several conference rooms.