The medtech industry appears to have a flaking wires issue-and the main answer to it may involve more stringent fundamentals around a gold-standard coating substance that has lost some of its luster.
by Chris Newmarker
as seen in Qmed
The importance of fundamentals is the main lesson that Chicago-based Surface Solutions Group has learned over the past year and a half as it tackled adhesion issues that have cropped up with polytetrafluoroethylene (PTFE).
PTFE used to not have such issues, but then the U.S. Environmental Protection Agency required that manufacturers eliminate the suspected carcinogen perfluorooctanoic acid (PFOA) from their PTFE formulations by 2015. (Dupont invented PTFE, naming it Teflon, but no longer promotes Teflon-branded PTFE coatings for medical device applications.)
The newer PTFE simply isn't sticking to stainless steel wires the way it used to, says Bruce Nesbitt, "chief tinkerologist" at Surface Solutions Group.
"You have to go to the fundamentals. What's causing the problem? Can we identify it? Can we do a pass/fail?" Nesbitt said.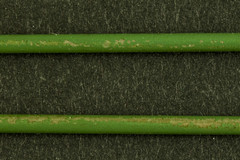 The FDA over the past 12 months has announced Class I designations involving coated guidewire recalls at Medtronic and Medline.
On April 1, Covidien, issued a voluntary recall of 650 of its Pipeline embolization devices and Alligator retrieval devices after internal testing revealed coating delamination. It was just in August that the FDA approved changes to the manufacturing process for the PTFE coating on the Pipeline's delivery wire. (A Covidien spokesman declined to elaborate what the manufacturing changes were.)
"The ongoing quest for adhesion has been brought to the fore because of the massive recalls. And they're not necessarily ending," Nesbitt says.
Flaking can create a serious, life-threatening situation because dislodged coatings could become lodged in the lungs or the heart.
At the same time, the PTFE is still greatly desired at as a guidewire coating because it has such low friction while moving through blood vessels inside the human body.
"It has the lowest coefficient of friction of anything out there," says George Osterhout, president of Surface Solutions Group and its sister company Orion Industries.
Nesbitt and Osterhout didn't want to go into too much detail about the processes they've developed. But essentially, they involve new stringent surface preparation techniques and adjusting how the coating is applied.
Here are four of the areas they tackled:
Click here to check out this article on the Qmed website to find out the four ways Surface Solutions Group is able to eliminate PTFE delamination on guidewires.